Here are some of the FAQ on the technical side. If you can't find a solution here or if the solution here doesn't help, please send a message to https://twitter.com/ZyngaSupport. They will take 1-3 days to reply back.
Creating multiple accounts
This is for samsung phones only(not sure if this will work on other phones). Go to My Files then delete all the files/data regrading the game and the game will automatically restart.
Resetting the game
You have to clear cache, clear data, uninstall and reinstall. If this doesn't work, it can't be helped.
If your game is forced to reset
You will need to email to zynga for this (do not use twitter)
In your email, you have to include
- Your current nickname  - The exact type and version of your device - Your old deleted nickname - The approximate date and time the incident occured - Your old game level and name some of the friends you had - Your new customer number
To help the support staff find your previous account faster, you may want to record down your previous customer number.
Did not receive gold
If you purchased gold but did not receive it even though money had been deducted from your bank, please follow the following procedures.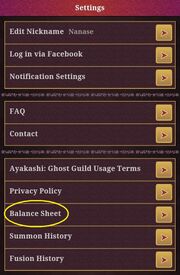 1. Go to Menu>Settings>Balance Sheet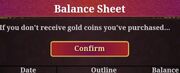 2. Check through the balance and make sure you indeed purchase the gold
3. Click 'Confirm'
4. If the issue isn't solved, send a message directly to zynga support. You will need to send them the google receipt. It will take around a minimum of 2 weeks for them to resolve the problem.
Ad blocker interference detected!
Wikia is a free-to-use site that makes money from advertising. We have a modified experience for viewers using ad blockers

Wikia is not accessible if you've made further modifications. Remove the custom ad blocker rule(s) and the page will load as expected.