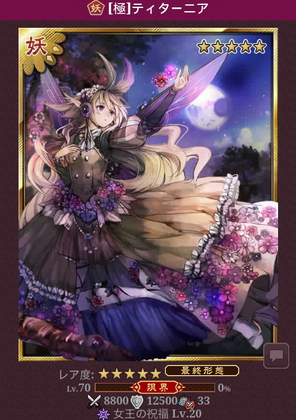 A daemons' skill level raises by one level once every 5 levels. Therefore, when a daemon reaches level 5, it's skill level will be 2. At level 30, its skill level will be 7. This mean that since a 1* daemons' maximum level is 30, the highest its skill level it can reach via leveling up is 7. However, there are other ways to increase the daemons' skill level.
Fusing with other daemons with the same skill
Fusing with magatamas with the same skill
The maximum known skill level is level 20.
Daemons with same skills
By feeding a daemon with the same skill, there is a chance that the base daemons' skill level will raise. Even if the base daemons' level is already maxed, its skill level can still increase. If the feeder daemons' level is maxed, it is guarenteed that the base daemons' skill level will increase by 1.
For example: You can max the skill level of Dark Elf by feeding it Wind Weasels because they have the same skill.
Magatamas with same skill
Feeding a magatama with the same skill will always increase the base daemons' skill level by 1.
Super Skill Magatama
On July 22, 2014 Zynga released the Super Skill Magatama which will increase any skill of any daemons by 1. The chances of increasing the skill is depending on the type of Super Skill Magatama used. Below are the corresponding magatamas:
Ad blocker interference detected!
Wikia is a free-to-use site that makes money from advertising. We have a modified experience for viewers using ad blockers

Wikia is not accessible if you've made further modifications. Remove the custom ad blocker rule(s) and the page will load as expected.