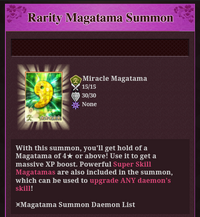 Here is a list of Magatama that are found in Magatama summon and in the Buy 5 get 1 Free Rare Summon
Also See:
Free Summon
Special Summon
Magatama Summon
Rarity 5 (5%)
Rarity 4 (95%)
Bell Summon
List of Magatama available in Buy 5 get 1 Free Rare Summon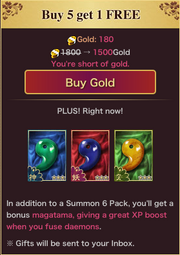 This is a list of Magatama that you can choose for free also when you do the Buy 5 get 1 Free Rare Summon
Info
Cost: 1500 Gold
The main Magatama in the Rare Summon, typically when there is not an event, are the Jade, Beryl, and Amber Magatama
Most of the Magatama can give special abilities in the event they are released for and are there for a limited time.
The Magatama's effects can only be used during the event time and cannot be obtained ever again.
These do not count as your Free Rare Summon.
Ad blocker interference detected!
Wikia is a free-to-use site that makes money from advertising. We have a modified experience for viewers using ad blockers

Wikia is not accessible if you've made further modifications. Remove the custom ad blocker rule(s) and the page will load as expected.