---
Dora's Swap Shop is a shop in which you could swap silver apples for items or daemons. You acquire one silver apple each day you log on. On weekends, you get two silver apples for logging in. You can obtain gold apples by doing six packs in the rare summon. Each six pack gives you one golden apple.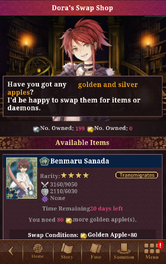 The daemons currently available are:
Golden Apples:
Silver Apples:
Dora's (Current) Swap Shop
Previous Gold Apple Offers:

Daemons that have been offered in Dora's Swap Shop in the past include:
Past Dealings
The Swap Shop used to have Golden and Silver apples, which were obtained at random by the buy 5 get 1 FREE Rare Summon, as a bonus.  This has been replaced by getting a magatama.
Now they include a Golden Apples with the Magatamas which is another extra bonus.
Notes
Ad blocker interference detected!
Wikia is a free-to-use site that makes money from advertising. We have a modified experience for viewers using ad blockers

Wikia is not accessible if you've made further modifications. Remove the custom ad blocker rule(s) and the page will load as expected.