---
Origin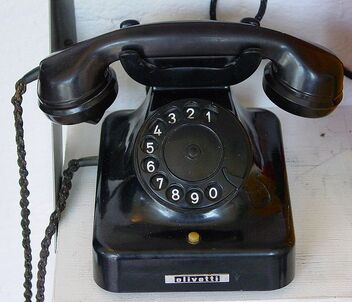 The rotary dial is a device mounted on or in a telephone or switchboard that is designed to send electrical pulses, known as pulse dialing, corresponding to the number dialed. The early form of the rotary dial used lugs on a finger plate instead of holes. Almon Brown Strowger filed the first patent for a rotary dial, U.S. patent #486,909, on December 21, 1891, that was later issued to him on November 29, 1892. The modern version of the rotary dial with holes was first introduced in 1904 but did not enter service in the Bell System until 1919.[citation needed] The rotary dial was gradually supplanted by Dual-tone multi-frequency pushbutton dialing, introduced at the 1962 World's Fair, which uses a keypad instead of a dial. Some telephone systems in the US no longer recognize rotary dialing by default, but will only support push-button phones.
Ad blocker interference detected!
Wikia is a free-to-use site that makes money from advertising. We have a modified experience for viewers using ad blockers

Wikia is not accessible if you've made further modifications. Remove the custom ad blocker rule(s) and the page will load as expected.