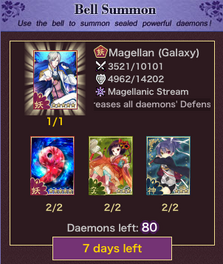 "Hey, I'm back again! See what I've got! It is really invaluable!"
Dora's eyes are shining looking at you. She's trying her best to sell the Daemon Bell to you - an ancient artifact with many daemons sealed in. Only Ghost Agents know how to use the bell to summon them.
It was announced in December 2014 that the Ghost Guild will permanently seal the summon bells (i.e., Bell summon will be discontinued). Thus, from 2014/12/16 to 2015/01/03, a series of Ultimate Summon Bells were released, one every two days, each of which features four lead daemon, one for each ("Bell Summon Farewell Carnival").
Effective 2015/01/03, Bell Summon is permanently discontinued.
[Introduction]
Fixed number of daemons are sealed in, including 1 very powerful Lead Daemon.
The rate for all daemons are exactly equal on each summon. The less remained daemons, the higher the rate to get the Lead. Can eventually get all from the bell as long as summon goes on.
"Discard" button is for giving up current progress and reset the bell. Using after getting the Lead daemon is recommended.
Every Daemon Bell is time limited. Every Bell has a unique Lead Daemon.
List of Ultimate Summon Bells
Daemons Available
Here is the list of all daemons found in Bell Summon. There are still more to be discovered. Typically, they are identified with a purple type border, similar to the gold-type border for event exclusive cards.
Previous bell leads can be mixed in current bell sets; but chances of summoning them are drastically low.
Lead Daemons (Limited Time As Leads)
Daemons only in Bell Summon
Phantom
Divina
Anima
Previously Available Daemons (Non-Lead Daemons)
These are daemons that were not the lead daemons, but appeared also with a limited amount for a rare amount of time for that specific bell, and are considered useful daemons within the team.
Phantom
Divina
Anima
Notes
Please See:
Ad blocker interference detected!
Wikia is a free-to-use site that makes money from advertising. We have a modified experience for viewers using ad blockers

Wikia is not accessible if you've made further modifications. Remove the custom ad blocker rule(s) and the page will load as expected.