Home
Talk

4
3,349pages on
this wiki
Welcome to The Encyclopedia of Ayakashi: Ghost Guild
This is a fan base wiki which contains in-game contents of Ayakashi: Ghost Guild like details or facts about the Daemons, Characters, Places and others to know more about them. Feel free to contribute to this wiki.
---
Story
---
This story is not based on actual historical events. The names of the organizations and characters that appear within the game are entirely fictional.
Since ancient times... An assortment of sprites, magical creatures, ghouls, heavenly spirits and other beings with unwordly powers have been striking fear, and occasionally wonder into human hearts everywhere. These beings are known as...
-

Ghosts

-
Unbeknownst to us, a special group has been protecting humanity from these ghosts' spooky deeds. These people are known as...
-

Ghost Agents

-
A young agents with the power to communicate with ghosts, and sufficient talent to put them to use as Daemons, has appeared...
---
Administrators • Chat Moderators • Policy • Wiki Tutorial • Site Maintenance • Help • All Pages
Sister AGG Wikis:

靈異陰陽錄_Wiki en    

Ayakashi Ghost Guild En Español es   


あやかし陰陽録 攻略wiki* jp
Avoid using abusive and foul language and spamming on this wiki. If notified, there will be serious consequence.
Contents




Daemons

Events

Story

Daemon List

Fanfiction

Characters

Guides

News

Quizzes
To all existing players, please keep a screenshot of your customer numbers (in the settings screen)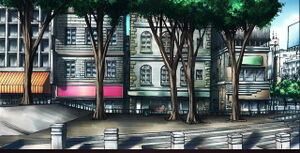 Free Item of the Day 03/11:

10000 Pieces of Silver


This offer is open until 03/12 (Wed) 10:00 (GMT+8)
Click the picture to edit.




| | |
| --- | --- |
| | |
‹
›
AGG Navigation
New Event: "Ancient Japan's Got Talent" Dialogue Theme
If you add pictures for Ayakashi Ghost Guild Wiki, the filename of the image must be formal and related to the image. Daemon images must have filename <daemon name>.jpg/png
Which type of Mythological-based daemons would you like to see more of?
Forum Activity