---
Origin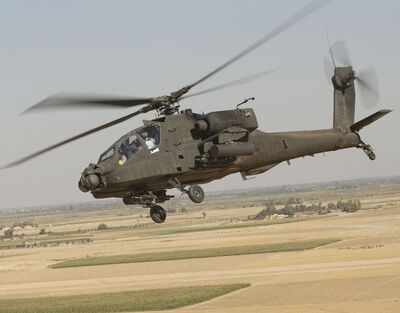 Agatha seems to be based off of the Boeing AH-64 Apache. It is a four-blade, twin-engine attack helicopter with a tailwheel-type landing gear arrangement, and a tandem cockpit for a two-man crew. Originally, the Apache started life as the Model 77 developed by Hughes Helicopters for the United States Army's Advanced Attack Helicopter program to replace the AH-1 Cobra, and was first flown on 30 September 1975. The AH-64 was introduced to U.S. Army service in April 1986. The AH-64 Apache features a nose-mounted sensor suite for target acquisition and night vision systems. It is armed with a 30-millimeter (1.2 in) M230 Chain Gun carried between the main landing gear, under the aircraft's forward fuselage. It has four hardpoints mounted on stub-wing pylons, typically carrying a mixture of AGM-114 Hellfire missiles and Hydra 70 rocket pods. The AH-64 has a large amount of systems redundancy to improve combat survivability.
Ad blocker interference detected!
Wikia is a free-to-use site that makes money from advertising. We have a modified experience for viewers using ad blockers

Wikia is not accessible if you've made further modifications. Remove the custom ad blocker rule(s) and the page will load as expected.